Sponsorship Opportunities Updated
Build Your Brand With AWT's Sponsorship Program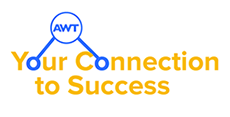 We may be meeting in cyber space, but there are still plenty of ways to build your brand at this year's annual convention!
All sponsors will receive the following benefits:
Company name listed in the conference section of AWT website and all promotional emails.
Logo on convention landing page.
Logo on screens before sessions begin.
Logo recognition with company account tag on AWT Twitter page.
Special graphics to promote your sponsorship that everyone in your company can use for signature blocks, websites, newsletters, social sites, anywhere!
Double priority points to choose booth space for 2021 annual convention
---
Sponsorship Opportunities
Registration Sponsor $3,500
Two opportunities available.
Recognition on convention registration page and all promotional emails.
Choice of one two-minute sponsor break time slot
NEW OPPORTUNITY - Choice of three months advertising on AWT Exchange or AWT App.
Keynote Address Sponsorship $1,500
Tim Gard, Leadership: Tao of Humor
Wednesday, September 30 12:15 pm
3-minute video presentation before Tim Gard's appearance.
Thank you acknowledgement from Tim Gard.
Logo recognition on screen during keynote presentation.
Choice of three months advertising on AWT Exchange or AWT Calculations App.
Sponsor Breaks $800
These breaks are built into the program for vital messages prior to various components of the convention where AWT leadership will speak to all attendees and thank sponsors for their support of their respective time slots. Your two-minute video will play during these time intervals, and your logo will appear on the screen during these announcements and remarks. Sponsor to provide video.
SCHEDULE
Wednesday, September 30
12:00 pm – 12:15 pm Welcome & Meeting Overview (SOLD)
1:15 pm – 1:30 pm Welcome to Exhibit Hall announcements
1:50 pm – 2:00 pm Stretch Break
2:00 pm – 2:20 pm Ray Baum Award Presentation
2:50 pm – 3:00 pm Welcome to Breakout Sessions
5:00 pm – 5:15 pm Closing Day Remarks
Thursday, October 1
11:00 am – 11: 15 am Daily Welcome Message
12:15 pm – 12:30 pm Welcome to Virtual Exhibit Hall & Announcements
5:00 pm – 5:05 pm Sponsor Message & Announcements
6:00 pm Closing Remarks & Announcements
Friday, October 2
11:00 am – 11:05 am Welcome & Announcements
11:45 am – 11:50 am Sponsor Break & Announcements
12:30 pm – 12:35 pm Sponsor Message & Announcements
Swag Price: Call for details.
Create a sense of community and work with AWT staff to send each attendee a promotional item in advance of the meeting. Call for details.
For questions or to reserve a sponsorship, contact Barbara Bienkowski:
240-404-6481/bbienkowski@awt.org.